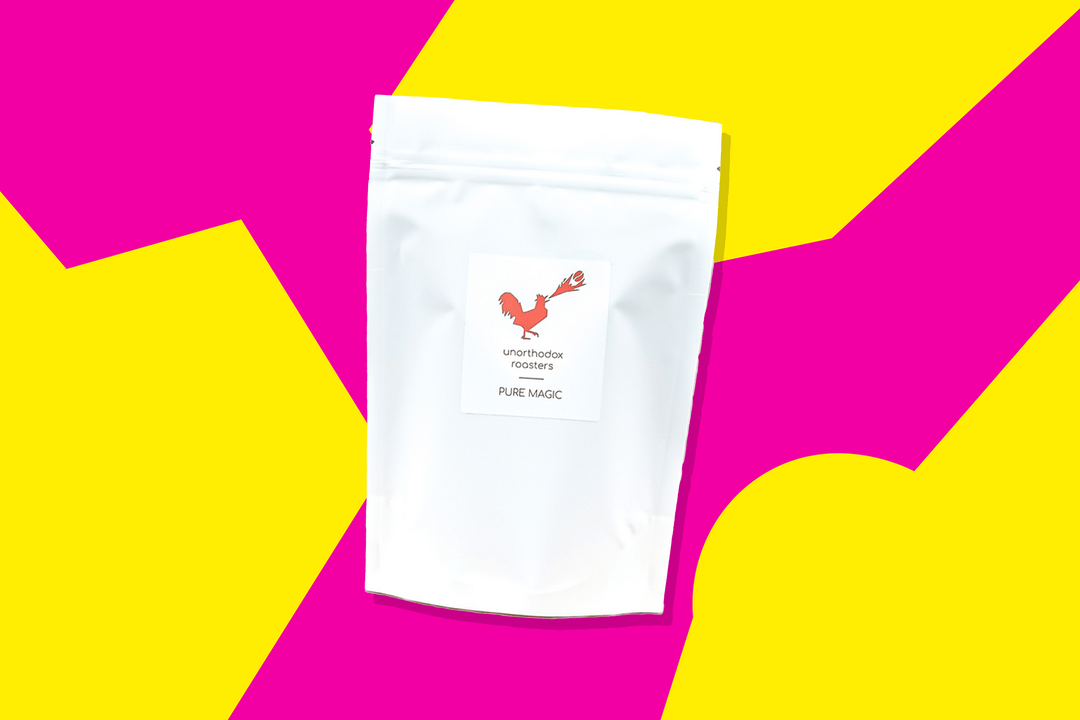 Unorthodox Coffee | Colombia
Unorthodox Coffee | Colombia
Coffee discovered by RiSE coffee box
This Pure Magic from Unorthodox won the RiSE coffee box best coffee roaster featured of 2021! It is Ben's personal fave, and an absolutely banging coffee.
Sent directly to you from Unorthodox coffee for freshness.
Coffee name: Pure Magic
Notes of: Golden Raspberry, Vanilla Pod and Butterscotch 
Grown in: Cauca, Colombia
Process: Washed
Varietal: Arusha & Blue mountain
Altitude: 1650 - 1900m
The roasters:
In 2015, the Unorthodox Roasters spent over 10 months in all the major coffee producing countries in South and Central America. Brazil, Bolivia, Peru, Ecuador, Colombia.
Panama, Nicaragua, Costa Rica, El Salvador, Guatemala. What follows is a micro-fraction of all the photos from that journey.
The farmers:
It took Unorthodox coffee roasters 5 years to be able to ensure that they had a continuous stream of exceptional green coffee from the smallholder farms in the Cauca, Colombia.
Nestled between Popayan and Cali, the coffee growing operations in the Municipio de Morales work under the guidance of CENCOIC - a facility that educates smallholder farmers with micro lots of land to maximise excellent practise in coffee growing, harvesting and processing.
Coffee available in: Whole bean, Ground Medium (AeroPress / V60 / Chemex), Fine (espresso / moka pot), Ground Coarse (French Press / cafetière)
Regular price
£1300
£13.00
Free UK delivery on all orders over £25
1% of sales invested in our Friendly Coffee Fund
Taste Tested & Approved By RISE
Free UK wide 48 hour tracked delivery service worth £3.48
International: Rates vary as calculated at checkout
Taxes and duties paid upfront in Europe for fast delivery
We can offer both subscription and non-subscription orders internationally
Packaging:
Our coffee is sent in our recyclable, plastic free sustainable RISE box!
Packaging: Our boxes are plastic free and made from recyclable materials. We only work with roasters who share the same ethos and ask you to get in touch if for any reason the recycling info isn't clear on a coffee bag. Our House coffee is packaged in 100% biodegradable plastic free packaging. Our Advent Calendar is 100% recycled cardboard with compostable pouches.
Our Values: We are transparent, honest and compassionate in how we respect people and the planet. Head to our Sustainability page to find out more about what these mean!
Friendly Coffee Fund: We give back 1% of all sales to our coffee fund which supports coffee growing communities. Our current focus is on education in Uganda.
Whole Bean - If you have your own grinder or a bean to cup machine this is for you.
Ground Cafetiere - Do you use the classic French Press / Cafetiere? This is pre ground ready for you.
Medium Ground - Perfect for Pour Over / Filter coffee. Chemex, V60 this is you.
Fine Ground - Best for Espresso Machines or Moka PotsAll coffee is high quality 100% Arabica specialty, 84+ SCA scored, and is freshly roasted to order.