RISE COFFEE, OUR STORY
Whether it's waking up early, lazy Sunday mornings or a serious case of Monday brain, we believe in the power of high quality, responsibly sourced specialty coffee to be enjoyed in those moments you need it. With a RiSE coffee box subscription, you'll get two new specialty coffee blends from different UK roasters delivered to your door every month. Independent, sustainable with special treats, recipes and more – basically all the good stuff. 
MEET BEN & ALICE
Hey! We are Ben and Alice. Far from experts, connoisseurs or single-origin snobs, we're just a couple of coffee lovers who love trying new things. One of our favourite things to do is discover and taste new varieties of coffee. Especially from up-and-coming roasters with a good story to tell. So we've created RiSE to take you on our coffee adventure. We've partnered with some of the most exciting roasters across the UK to showcase and deliver the best coffee you can find. All of the coffee we feature is high quality, 100% Arabica specialty coffee and responsibly sourced. We look for roasters with strong ethics (such as B-Corp, recyclable or compostable packaging, giving back and mission led initiatives).
HOW IT ALL BEGAN…
Where does any great idea begin in 2020? Lockdown, of course. Missing our morning flat whites on the way to work, we went on the hunt for good coffee to drink at home. 
Finding our supermarket shelves less than inspiring, we took to Google to find a coffee subscription. There were plenty out there, but none that offered the variety and mix we were looking for. We wanted one monthly subscription that could open up a world of coffee for us to try. We also wanted to find the gems in amongst a sea of endless options! And there started our mission – to bring delicious and exciting varieties of coffee to the homes of coffee lovers like us. We are proud to say we have grown into an exciting coffee club and we even created our own RiSE coffee, Ibanda which sold out!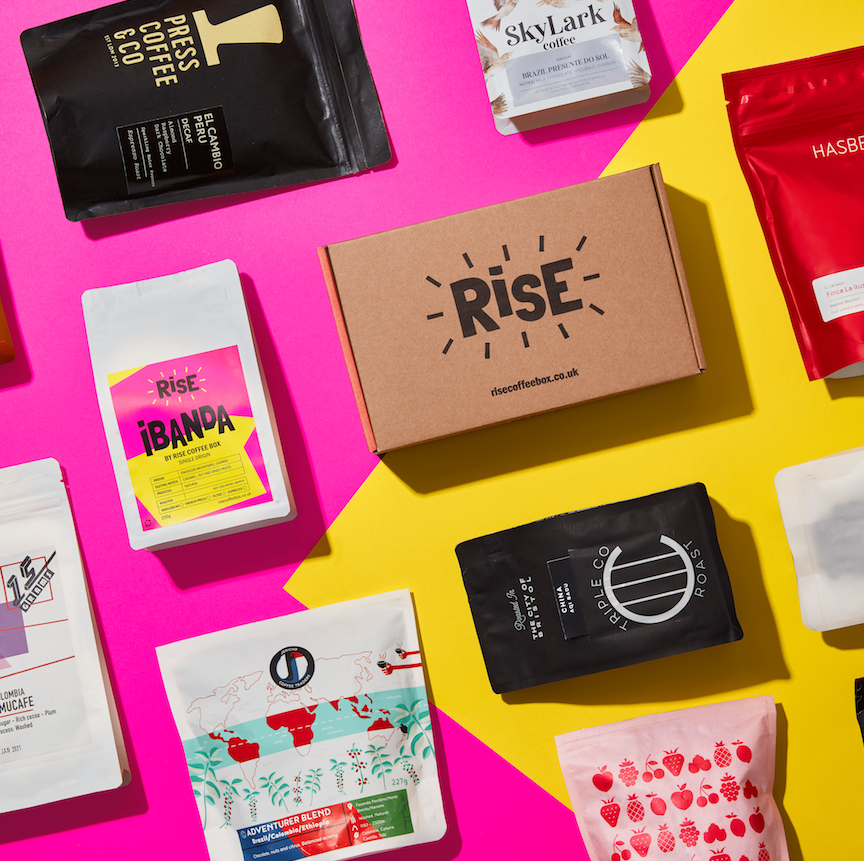 WHY CHOOSE RISE COFFEE BOX?
A RiSE subscription box is for coffee lovers, from coffee lovers. That means we'll always deliver you independent, sustainable and premium coffee. We have strong beliefs about changes that are needed in the coffee industry and work hard with our partners to ensure we are acting in a responsible way.
At RiSE coffee box we blind taste 25-30 coffees and choose the top 2-4 to make it into the box - we also check they are sourcing their coffee sustainably before making any final decisions. From the smallest roasters nestled in the countryside to London's largest and most popular cafes, we try coffee from far and wide to bring you only the best.
Every month, you'll discover two different coffee varieties and flavours and learn all about your coffee's journey from bean to bag. You'll hear stories from our roasters as well as tips to get the most out of your coffee. We also pop in an extra treat from emerging food and drink brands we love, alongside an easy, fun recipe to try.
We also have a range of interesting gifts for coffee lovers in your life, from cafetière starter kits to more luxury beauty boxes.
We hope you love our coffee subscription box and can't wait to welcome you to the RiSE community!
From farmer's wages to being plastic-free and kind to our planet, we'll always be working to be a sustainable, ethically-minded business. 
WATCH HOW WE CHOOSE OUR COFFEE ⬇️