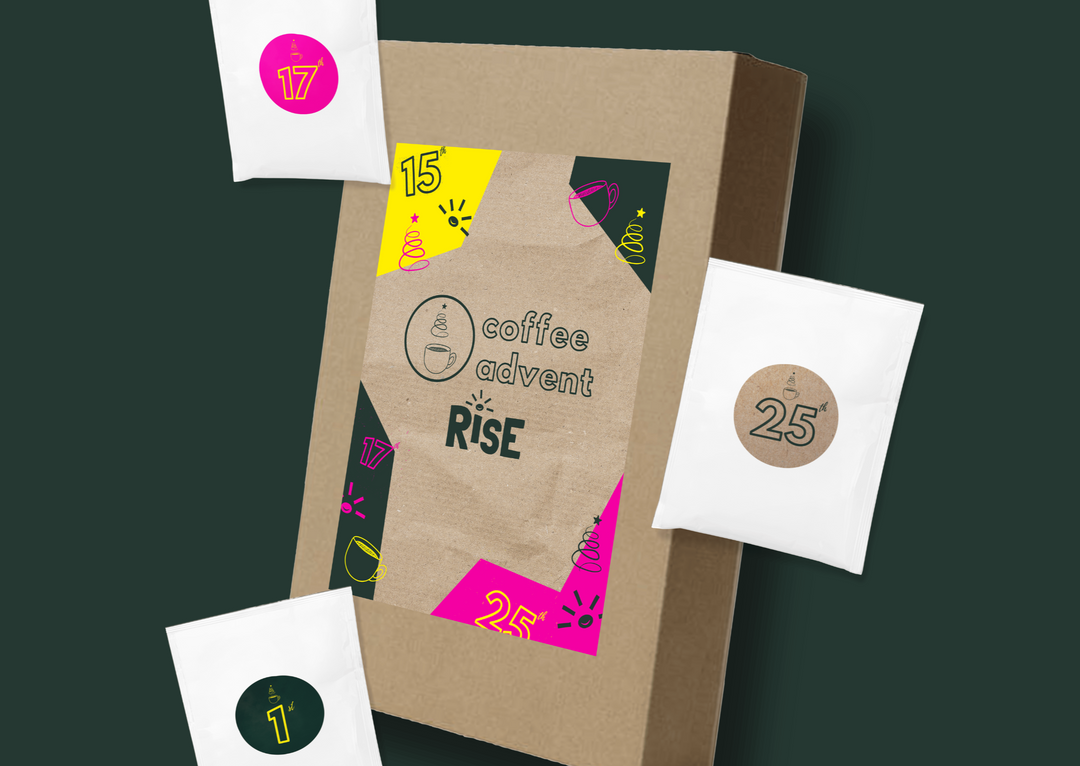 Coffee Advent Calendar 2023
Coffee Advent Calendar 2023
RiSE coffee x Coffee Advent have teamed up this Christmas 2023 and curated a 100% sustainable speciality coffee advent calendar featuring 25 different coffees inside compostable pouches. 
The coffee advent calendar is delivered on the 3rd week of November to ensure the coffee arrives as fresh as possible. 
25 different speciality coffees for you to enjoy each morning throughout December
Whole-bean coffee only
Limited availability - order today!
Shipped in the third week of November
Free Delivery on all advent calendars. Delivered 3rd week of November. 
How will the coffee advent calendar work?
Twenty-five coffees from 25 different featured speciality roasters, freshly roasted and delivered to your door in individual compostable coffee bags in a recyclable box. You will receive 17g of each coffee (or more if you choose 30g or 50g options), enough to brew however you like - French Press, V60, Aeropress, Kalita Wave, or even espresso. These coffees have been selected by
RISE coffee box founders Ben and Alice
alongside Josh from Coffee. Advent. The advent calendar coffee will be with you in the last week of November, just before Advent starts. This is so you get the coffee as fresh as possible. 
Who are the roasters? 
Every UK coffee roaster involved in the coffee advent calendar is a speciality grade roaster, meaning they are sourcing and roasting the highest grade of coffee available with traceability through the supply chain. A wide variety of countries and processing methods will be represented, and in general, you can expect light to medium roast profiles suitable for a filter coffee or a bright espresso. We'll be revealing the roasters on our socials in the run-up to advent. 
Regular price
£3800
£38.00
Free UK delivery on all orders over £25
1% of sales invested in our Friendly Coffee Fund
Taste Tested & Approved By RISE
Free UK wide 48 hour tracked delivery service worth £3.48
International: Rates vary as calculated at checkout
Taxes and duties paid upfront in Europe for fast delivery
We can offer both subscription and non-subscription orders internationally
Packaging:
Our coffee is sent in our recyclable, plastic free sustainable RISE box!
Packaging: Our boxes are plastic free and made from recyclable materials. We only work with roasters who share the same ethos and ask you to get in touch if for any reason the recycling info isn't clear on a coffee bag. Our House coffee is packaged in 100% biodegradable plastic free packaging. Our Advent Calendar is 100% recycled cardboard with compostable pouches.
Our Values: We are transparent, honest and compassionate in how we respect people and the planet. Head to our Sustainability page to find out more about what these mean!
Friendly Coffee Fund: We give back 1% of all sales to our coffee fund which supports coffee growing communities. Our current focus is on education in Uganda.
Whole Bean - If you have your own grinder or a bean to cup machine this is for you.
Ground Cafetiere - Do you use the classic French Press / Cafetiere? This is pre ground ready for you.
Medium Ground - Perfect for Pour Over / Filter coffee. Chemex, V60 this is you.
Fine Ground - Best for Espresso Machines or Moka PotsAll coffee is high quality 100% Arabica specialty, 84+ SCA scored, and is freshly roasted to order.