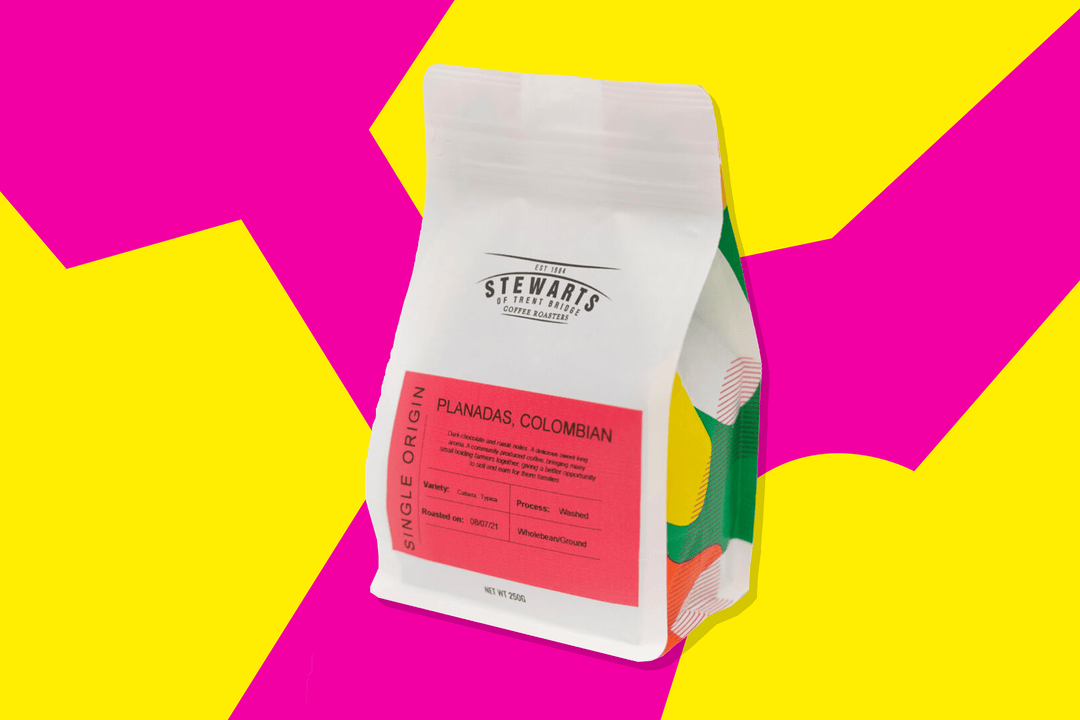 Stewarts Coffee | Colombia
Stewarts Coffee | Colombia
Coffee discovered by RiSE coffee box
Sent directly to you from Stewarts coffee for freshness.
Coffee name: PLANADAS COMMUNITY
Notes of: Dark Chocolate, Caramel, Raisons
Origin: Colombia, Hamlets of La Cumbre, Montalvo to Bilboa
Variety: Caturra, Typica, Bourbon and Colombia F8
Altitude: 1600m-2000m
Process: Washed
Roast Level: Medium
The roaster: 
Their story starts with Nottingham coffee visionary Stewart Falconer, hand roasting coffee in the 80's, before the word "artisan" even existed. After a few cups of the good stuff during his travels abroad, he made it his mission to make quality coffee the norm, not the exception. They're proud to carry on his tradition, and the original roaster he bought for the job all those years ago is still a part of the furniture today.
The farmers:
This Colombian Single Origin Coffee is part of a community development program which is centralised around the various Planadas hamlets of Southern Colombia. The Planadas area represents 86 producing hamlets, consisting of 6821 small farms, all ranging from 5 to 6 hectares. Thanks to investment by the programme, the area is becoming renowned for producing some of Colombia's finest Specialty Micro-lot coffees.
The project initiative is to develop a stable environment through traceability and sustainably grown coffee. They emphasise social development through the sharing of profits within the community. The operation ensures that ethical principals, sustainability and quality control become the cornerstone of the local community. These teachings will be passed down for generations. Enabling the coffee industry to flourish while generating economic revenue, and social advancement for years to come. 
We have been supporting this program for some time now. You may well have ordered some of the monthly Colombian special single origins we've had in the past, our Planadas Colombian differs as this coffee is sourced from a collection of farmers. These farmers work across a number of small holdings in the Planadas area, that aren't yet big enough to produce their own exports. The result is an excellent example of great Single Origin Colombian Coffee, with the gorgeous deep flavours of dark chocolate, and smooth caramel.
Coffee available in: Whole bean, Ground Medium (AeroPress / V60 / Chemex), Fine (espresso / moka pot), Ground Coarse (French Press / cafetière)
Free UK delivery on all orders over £25
1% of sales invested in our Friendly Coffee Fund
Taste Tested & Approved By RISE
Free UK wide 48 hour tracked delivery service worth £3.48
International: Rates vary as calculated at checkout
Taxes and duties paid upfront in Europe for fast delivery
We can offer both subscription and non-subscription orders internationally
Packaging:
Our coffee is sent in our recyclable, plastic free sustainable RISE box!
Packaging: Our boxes are plastic free and made from recyclable materials. We only work with roasters who share the same ethos and ask you to get in touch if for any reason the recycling info isn't clear on a coffee bag. Our House coffee is packaged in 100% biodegradable plastic free packaging. Our Advent Calendar is 100% recycled cardboard with compostable pouches.
Our Values: We are transparent, honest and compassionate in how we respect people and the planet. Head to our Sustainability page to find out more about what these mean!
Friendly Coffee Fund: We give back 1% of all sales to our coffee fund which supports coffee growing communities. Our current focus is on education in Uganda.
Whole Bean - If you have your own grinder or a bean to cup machine this is for you.
Ground Cafetiere - Do you use the classic French Press / Cafetiere? This is pre ground ready for you.
Medium Ground - Perfect for Pour Over / Filter coffee. Chemex, V60 this is you.
Fine Ground - Best for Espresso Machines or Moka PotsAll coffee is high quality 100% Arabica specialty, 84+ SCA scored, and is freshly roasted to order.