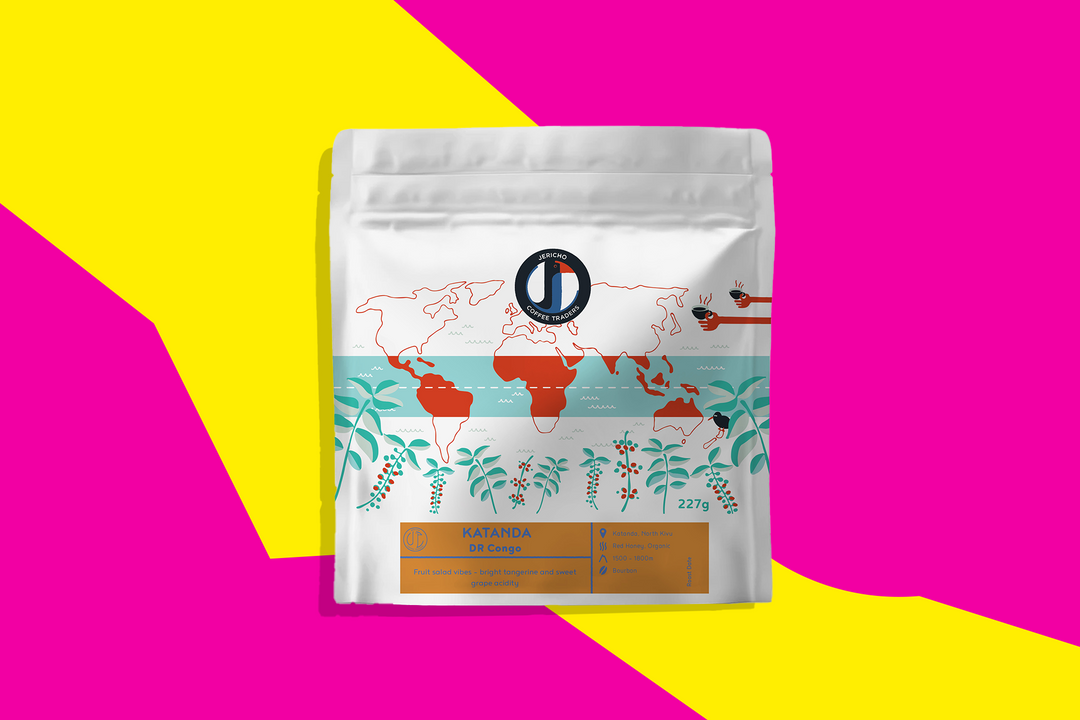 Jericho Coffee Traders | Guatemala
Jericho Coffee Traders | Guatemala
Freshly roasted coffee sent to you directly from Jericho coffee roasters. 
Coffee name: Maya
Notes of: Dark chocolate, boozy, black tea and caramel
Grown in: Guatemala
Process: Natural
The coffee:
This is an absolute cracker of a coffee. A favourite as an espresso based drink. Add milk and it tastes of butterscotch and caramel. It's also great as a full bodies cafetiere, with plenty of richness. Very smooth, delicate and balanced.
The farmers: 
The Farms of Antigua and the Antigua Regional lots are comprised of coffee from farms in the Antigua region in the south of Guatemala. A large portion of 2021's Antigua Regional comes from a community of 43 producers located on the Volcán de Agua which towers above the Pacific coastal plain to the south and the Guatemalan Highlands to the north. The other coffees come from the larger historic farms of Antigua: Fincas Covadonga, La Guadelupe, San Inacio, Santa Barbara and San Carlos.

Los Volcanes Coffee (LVC) buys the entire harvest in cherry from these farms, using a uniform pricing strategy that results in the highest price in the region. The producers are paid within two weeks of their coffee being received at Beneficio La Esperanza for processing. Josué Morales, LVC's founder and director, coordinates with community leaders to orchestrate the pick-up of cherries. Trucks leave every morning and return to the Beneficio La Esperanza mill in the evenings loaded with cherries.

The producers contribute their labour, land and coffee, and use the infrastructure of LVC and Beneficio La Esperanza for collection and processing. LVC provides tea or composted pulp to some of the producers to improve soil quality, while all of these producers have been involved with LVC's workshops at Finca La Esperanza, benefitting from classes on compost, shade, spacing and picking, among others.
Coffee available in: Whole bean, Ground Medium (AeroPress / V60 / Chemex), Fine (espresso / moka pot), Ground Coarse (French Press / cafetière)
Regular price
£1100
£11.00
Free UK delivery on all orders over £25
1% of sales invested in our Friendly Coffee Fund
Taste Tested & Approved By RISE
Free UK wide 48 hour tracked delivery service worth £3.48
International: Rates vary as calculated at checkout
Taxes and duties paid upfront in Europe for fast delivery
We can offer both subscription and non-subscription orders internationally
Packaging:
Our coffee is sent in our recyclable, plastic free sustainable RISE box!
Packaging: Our boxes are plastic free and made from recyclable materials. We only work with roasters who share the same ethos and ask you to get in touch if for any reason the recycling info isn't clear on a coffee bag. Our House coffee is packaged in 100% biodegradable plastic free packaging. Our Advent Calendar is 100% recycled cardboard with compostable pouches.
Our Values: We are transparent, honest and compassionate in how we respect people and the planet. Head to our Sustainability page to find out more about what these mean!
Friendly Coffee Fund: We give back 1% of all sales to our coffee fund which supports coffee growing communities. Our current focus is on education in Uganda.
Whole Bean - If you have your own grinder or a bean to cup machine this is for you.
Ground Cafetiere - Do you use the classic French Press / Cafetiere? This is pre ground ready for you.
Medium Ground - Perfect for Pour Over / Filter coffee. Chemex, V60 this is you.
Fine Ground - Best for Espresso Machines or Moka PotsAll coffee is high quality 100% Arabica specialty, 84+ SCA scored, and is freshly roasted to order.