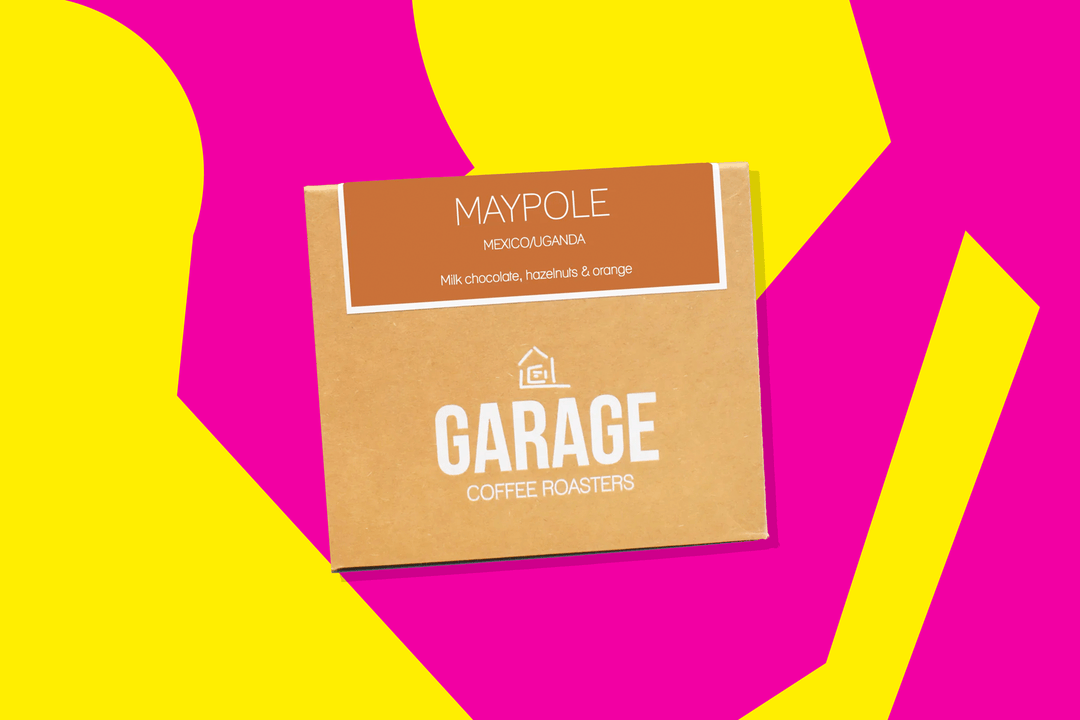 Garage Coffee | Uganda & Mexico
Garage Coffee | Uganda & Mexico
Coffee discovered by RiSE coffee box
Sent directly to you from Garage coffee for freshness.
Coffee name: Maypole
Hints of: Dark chocolate, Hazelnuts and Orange.
Grown in: Uganda & Mexico
Process: Washed
Roaster's Notes: This finely balanced blend makes for an espresso with notes of milk and dark chocolate, hazelnuts and orange with a very creamy mouthfeel
The farmers:
Finca Guadalupe Zaju, Mexico:
Beautiful Finca Guadalupe Zaju occupies 310 hectares right on Chiapas, Mexico's famed 'Ruta de Cafe'. This 'Route of Coffee' rides along the Guatemalan border, north from the border town of Tapachula, through Mexico's famed Soconusco region. The route flows past some of Mexico's most famous farms – including the Fincas Hamburgo and Irlanda. A neighbour of these farms, Guadelupe Zaju is well on its way to helping carry on the region's (somewhat diminished in recent years) reputation as a location for high quality coffee.
Midnight Flyer, Uganda:

Midnight flyer is brought to us by Omwani coffee and Agri Evolve, and their longstanding efforts to support and uplift the Ugandan coffee market. 
Staring in 2016 Agri Evolve originally opened as a collection point for both Dried Ugandan Arabica (DRUGAR) and cherries. Typically drying cherries on tarpaulin in the sun. Sourcing this DRUGAR was considerably easier in the beginning than trying to purchase ripe cherries, it turns out old habits do die hard!

Following investment in processing equipment, demonstration farms and hiring experienced staff. The second-year harvest was a drastic improvement in terms of sourcing unprocessed ripe cherries.

After this first season, processing facilities improved considerably and new equipment introduced, including; a washer separator, mechanical dryers, Hulling machine and green-houses - all introduced to the station.

The interest in Agri Evolve grew amongst the farming community as they were seen as a stable, reliable place to sell coffee, consistently paying good prices and always paid on time, which - as basic as it is - made a huge difference for farmers.

By the end of the second season Agri Evolve was given some outstanding reviews from a Japanese importer who thought the African Moon coffee was fantastic and "full of potential", which in turn kickstarted the interest in sourcing and processing high-quality Rwenzori Coffee.

Over the course of the next 5-years Agri Evolve rapidly expanded to become the largest employer in the Kisinga Region bringing new economic stability and job opportunities to the community. This growth was driven by an ever-increasing reputation for high-quality coffee from the Rwenzori Mountains.

With a focus on staff empowerment and education, Jonny managed to build the team to over 50 skilled individuals sourcing and processing coffee from thousands of farmers across the Rwenzori mountains. The focus in recent years has shifted to building a new station in Bugoye.

Introducing Buying Centres in strategic locations across the Rwenzori has been one of the catalysts for growth. Creating a constant physical presence encourages farmers that Agri Evolve is going to be there come the harvest, The convenient locations for farmers also drastically reduce the effort required to travel to market.
 Coffee available in: Whole bean, Ground Medium (AeroPress / V60 / Chemex), Fine (espresso / moka pot), Ground Coarse (French Press / cafetière)
Regular price
£1000
£10.00
Free UK delivery on all orders over £25
1% of sales invested in our Friendly Coffee Fund
Taste Tested & Approved By RISE
Free UK wide 48 hour tracked delivery service worth £3.48
International: Rates vary as calculated at checkout
Taxes and duties paid upfront in Europe for fast delivery
We can offer both subscription and non-subscription orders internationally
Packaging:
Our coffee is sent in our recyclable, plastic free sustainable RISE box!
Packaging: Our boxes are plastic free and made from recyclable materials. We only work with roasters who share the same ethos and ask you to get in touch if for any reason the recycling info isn't clear on a coffee bag. Our House coffee is packaged in 100% biodegradable plastic free packaging. Our Advent Calendar is 100% recycled cardboard with compostable pouches.
Our Values: We are transparent, honest and compassionate in how we respect people and the planet. Head to our Sustainability page to find out more about what these mean!
Friendly Coffee Fund: We give back 1% of all sales to our coffee fund which supports coffee growing communities. Our current focus is on education in Uganda.
Whole Bean - If you have your own grinder or a bean to cup machine this is for you.
Ground Cafetiere - Do you use the classic French Press / Cafetiere? This is pre ground ready for you.
Medium Ground - Perfect for Pour Over / Filter coffee. Chemex, V60 this is you.
Fine Ground - Best for Espresso Machines or Moka PotsAll coffee is high quality 100% Arabica specialty, 84+ SCA scored, and is freshly roasted to order.