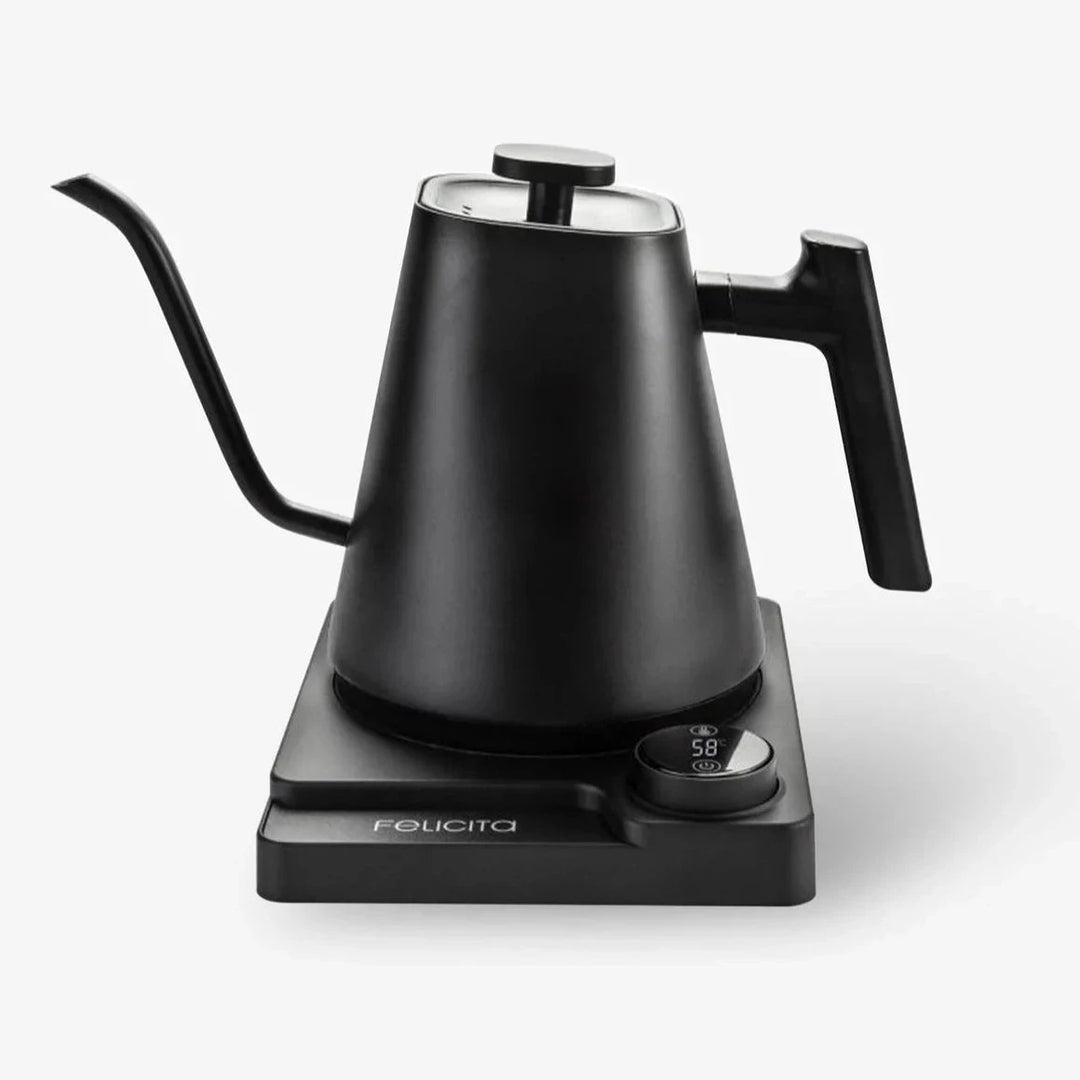 Felicita Electric Kettle
Felicita Electric Kettle
Felicita Square Temperature Control Electric Kettle
Coffee making is an art. So, when you're manually brewing, it's important to work with equipment that gives you complete control. The Felicita Square Temperature Control Electric Kettle provides precision, control, and effortless style. Plus its robust design means it not only looks good, but performs well enough for use in a commercial setting.
This electric kettle heats accurately to your chosen temperature, maximising aroma and flavour from your brews. The ergonomic design and shaped spout give you absolute command of the speed and direction of water flow. Better brewing is in your grasp.
The Felicita Square's uniquely sleek design is a stylish addition to any coffee shop brew-bar. Why hide your coffee equipment away when it looks this good? The Felicita Square also makes a great retail proposition for your shelves: Despite its look of luxury, it represents amazing value for money – the perfect recipe for a best-seller!
Temperature control
The easy-to-use control button lets you set your water temperature to the nearest 1°. Choose between Celsius and Fahrenheit. The rapid boil capability means it can keep up with a fast-paced service, while the temperature control heating plate keeps the water temperature stable so you're never rushed, either – enjoy complete control.
Intelligent design
As well as it's striking appearance, the Felicita Square is purposefully practical: Its size and 700ml capacity make it perfect for making coffee, without becoming unwieldy. The easy grip handle, balanced by the gooseneck spout allow precision pouring and comfortable use. The matt black, stainless steel body provides durability and temperature stability.
Felicita Square Temperature Control Electric Kettle Details:
Designed with aesthetics and practicability for coffee brewing - Easy grip handle delivers comfortable holding and manoeuvrability. High-grade stainless steel means better quality and reliability.

Multi-function Control Button puts you in charge

Spout for accurate pour over - Excellent water injection can control flow rate, easy to pour over steadily and precisely.

Capacity 700ml

1200 watts for quick heating time
Regular price
£10000
£100.00
Free UK delivery on all orders over £25
1% of sales invested in our Friendly Coffee Fund
Taste Tested & Approved By RISE
Free UK wide 48 hour tracked delivery service worth £3.48
International: Rates vary as calculated at checkout
Taxes and duties paid upfront in Europe for fast delivery
We can offer both subscription and non-subscription orders internationally
Packaging:
Our coffee is sent in our recyclable, plastic free sustainable RISE box!
Packaging: Our boxes are plastic free and made from recyclable materials. We only work with roasters who share the same ethos and ask you to get in touch if for any reason the recycling info isn't clear on a coffee bag. Our House coffee is packaged in 100% biodegradable plastic free packaging. Our Advent Calendar is 100% recycled cardboard with compostable pouches.
Our Values: We are transparent, honest and compassionate in how we respect people and the planet. Head to our Sustainability page to find out more about what these mean!
Friendly Coffee Fund: We give back 1% of all sales to our coffee fund which supports coffee growing communities. Our current focus is on education in Uganda.
Whole Bean - If you have your own grinder or a bean to cup machine this is for you.
Ground Cafetiere - Do you use the classic French Press / Cafetiere? This is pre ground ready for you.
Medium Ground - Perfect for Pour Over / Filter coffee. Chemex, V60 this is you.
Fine Ground - Best for Espresso Machines or Moka PotsAll coffee is high quality 100% Arabica specialty, 84+ SCA scored, and is freshly roasted to order.