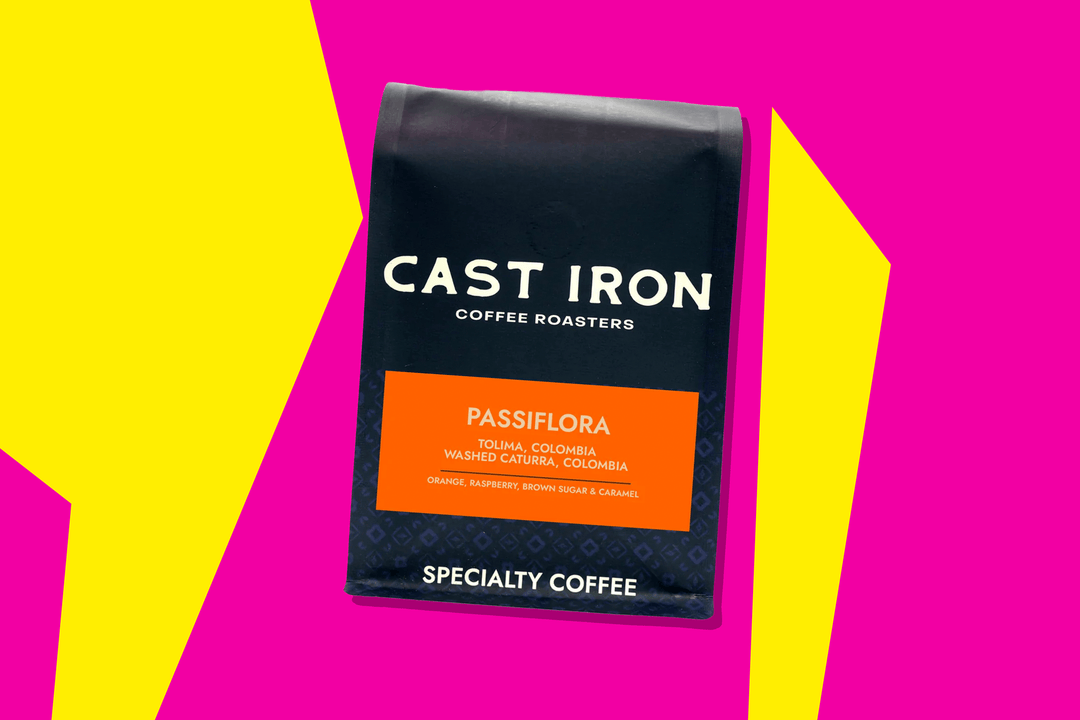 Cast Iron | Colombia
Cast Iron | Colombia
Coffee discovered by RiSE coffee box
Sent directly to you from Cast Iron coffee for freshness.
THE COFFEE:
Cast Iron - Colombia, Passiflora
Hints of: Raspberry, brown sugar & caramel - full-bodied and rich
Grown in: Colombia Tolima Cedro Altro Co-operative
Variety: Caturra, Typica, Bourbon and Colombia F8
Altitude: 1900-2000 masl
Process: Washed
Roast Level: medium - dark
We roast the Passiflora to a medium level so it is perfect for filter coffee drinkers who like a full-bodied coffee and for espresso drinkers who enjoy a sweet smooth drink. It works perfectly with milk.
THE ROASTERS:
Five years ago we started Cast Iron Coffee Roasters with a simple vision focused squarely on producing the best specialty coffee possible.  That vision has never been more true than it is today.

We hand roast our coffee beans to order at our workshop in West Sussex, with the aim of getting them to our customers within 3 working days of being ordered. The roast date is stamped on the pack so you know you are getting the freshest coffee possible. You'll smell it when you open the bag and you'll taste it in every cup. Our roasting philosophy is very simple; showcase the bean in the best possible light and be as true as possible to its origins. We will only ever supply coffee we love to drink ourselves, be that a rich chocolatey espresso or a light fruity complex filter.

Delicious coffee starts at the source.  How the cherry is picked, processed and transported affects quality. Knowing the origin of our coffee and that it is responsibly sourced is of vital importance to us. It often costs more this way but this ultimately means a sustainable source of production AND better-tasting coffee.  Coffee is a seasonal product so we supply coffee from farmers all around the globe. Our aim is to provide a constantly changing supply of dynamic single origin coffees along with a complementary range of espresso blends.

The best quality coffee from a traceable source, carefully roasted, delivered fresh - that is speciality coffee and that is Cast Iron Coffee Roasters.
THE FARMERS:
Planadas is the largest town south of Tolima, but is still isolated and lacking in infrastructure; a cause and result of the narcotics conflicts that have come to define this region. 35 farming families have banded together with developer/exporter/partner Cedro Alto to change that, to build on a culture of coffee growing curiosity, and to repurpose their incredibly rich ecological heritage.
Karl, who founded Cedro Alto with the aim of working with small coffee farmers who were growing very high-quality coffee but didn't always have the ability to get that coffee to specialty roasters (and get a price that was congruent to the quality of the coffee they were producing), their coffee often ending up "blended in" to coffee from many other small and much larger producers, losing unique profiles along the way.
Coffee available in: Whole bean, Ground Medium (AeroPress / V60 / Chemex), Fine (espresso / moka pot), Ground Coarse (French Press / cafetière)
Regular price
£1050
£10.50
Free UK delivery on all orders over £25
1% of sales invested in our Friendly Coffee Fund
Taste Tested & Approved By RISE
Free UK wide 48 hour tracked delivery service worth £3.48
International: Rates vary as calculated at checkout
Taxes and duties paid upfront in Europe for fast delivery
We can offer both subscription and non-subscription orders internationally
Packaging:
Our coffee is sent in our recyclable, plastic free sustainable RISE box!
Packaging: Our boxes are plastic free and made from recyclable materials. We only work with roasters who share the same ethos and ask you to get in touch if for any reason the recycling info isn't clear on a coffee bag. Our House coffee is packaged in 100% biodegradable plastic free packaging. Our Advent Calendar is 100% recycled cardboard with compostable pouches.
Our Values: We are transparent, honest and compassionate in how we respect people and the planet. Head to our Sustainability page to find out more about what these mean!
Friendly Coffee Fund: We give back 1% of all sales to our coffee fund which supports coffee growing communities. Our current focus is on education in Uganda.
Whole Bean - If you have your own grinder or a bean to cup machine this is for you.
Ground Cafetiere - Do you use the classic French Press / Cafetiere? This is pre ground ready for you.
Medium Ground - Perfect for Pour Over / Filter coffee. Chemex, V60 this is you.
Fine Ground - Best for Espresso Machines or Moka PotsAll coffee is high quality 100% Arabica specialty, 84+ SCA scored, and is freshly roasted to order.