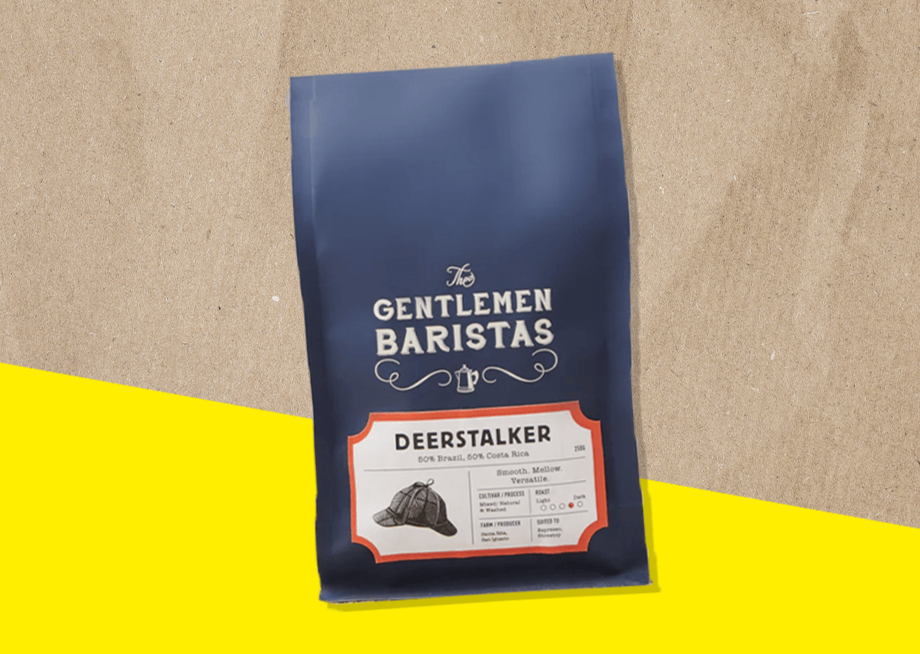 The Gentlemen Baristas | Brazil & El Salvador
The Gentlemen Baristas | Brazil & El Salvador
Coffee discovered by RiSE coffee box
Sent directly to you from The Gentlemen Barista's for freshness.
Coffee name: Deerstalker
Notes of: Roasted hazelnut, chocolate, and nougat
Grown in: Brazil and El Salvador
Process: Natural, washed
Roast Level: Medium 
The coffee: 
The original house blend, Deerstalker, is as popular as it is versatile. A favourite with our customers who like milk with their brew; we also recommend it made as an espresso or with a moka pot. 
With tasting notes of Milk Chocolate, Nougat and Hazelnut, Deerstalker coffee is made using a 50/50 ratio of coffees from Brazil and El Salvador.
The farmers: 
The Brazilian coffee in this blend comes from a farm called Vale Do Sol. It is a female owned farm, located in the region of Minas Gerais.
The history of this farm began in 2008, with Alexandre Garcia Capelo, who was a small coffee producer and who continued his work with his son, Antonio Wander Garcia, who decided to dedicate his life to coffee production.
Bringing all his knowledge as an agronomist, Antonio Wander's son, André, also a partner at Jaguara Coffee, dedicated himself to applying the techniques learned from planting and reached good results with the applied technology. Vale do Sol is 72 hectares big, and there was an increase in preservation areas, planting trees along the springs.
All Vale do Sol crops undergo cyclical pruning in the zero harvest system. They cultivate banana trees as natural barriers to the wind. Cultivars with natural resistance to pests and diseases were planted, with an almost organic crop formation. The coffees produced by Vale do Sol are full-bodied, sweet, with a hint of milk chocolate and brown sugar.

The El Salvadorian coffee comes Agua Caliente Estate in Ahuachapan, El Salvador. This is one of a number of farms owned by J.J. Borja Nathan, a 120 year old generational coffee producing company with a wide footprint in El Salvador. All of the company's farms are located in the Apaneca-Ilamatepec mountain range, which is known for its volcanic soil ideal for coffee cultivation. The farm management system is geared towards the well-being of the farms and their surrounding environment, with a yearly cycle of cleaning, maintenance, fertilization, and certification across the estates.

J.J. Borja Nathan maintains a careful selection and classification process during picking. Every day during harvest season, zones and areas in each estate are identified based on fruit maturity, where workers carefully pick the beans that will be sent to the mill. Here, the beans are identified, separated, and selected for wet or dry processing. The company offers a full range of processing techniques based on what they deem best for the coffee in question: fully washed, semi-washed, brick patio naturals, machine drying, African beds, etc.

The company operations their own foundation for reinvesting back into the communities in which they work, Fundacion Jborja. They currently have 94 fellows who have completed the OPPORTUNITIES program in partnership with the Gloria de Kriete Foundation, who they also work with alongside USAID on a software development center in which they teach software programming to young people to provide additional employment opportunities. Employees are supported with the TOGETHER program which focuses on Financial Education and Emotional Health, and regular coexistence spaces are provided (primarily sports activities) to bring the team together with collaborators.
  Environmental sustainability is also a focus, with an estimated 10 thousand litres of water a year saved due to their rainwater washing system and plastic seedling bags replaced with reusable tubes.
Coffee available in: Whole bean, Ground Medium (AeroPress / V60 / Chemex), Fine (espresso / moka pot), Ground Coarse (French Press / cafetière)
Free UK delivery on all orders over £25
1% of sales invested in our Friendly Coffee Fund
Taste Tested & Approved By RISE
Free UK wide 48 hour tracked delivery service worth £3.48
International: Rates vary as calculated at checkout
Taxes and duties paid upfront in Europe for fast delivery
We can offer both subscription and non-subscription orders internationally
Packaging:
Our coffee is sent in our recyclable, plastic free sustainable RISE box!
Packaging: Our boxes are plastic free and made from recyclable materials. We only work with roasters who share the same ethos and ask you to get in touch if for any reason the recycling info isn't clear on a coffee bag. Our House coffee is packaged in 100% biodegradable plastic free packaging. Our Advent Calendar is 100% recycled cardboard with compostable pouches.
Our Values: We are transparent, honest and compassionate in how we respect people and the planet. Head to our Sustainability page to find out more about what these mean!
Friendly Coffee Fund: We give back 1% of all sales to our coffee fund which supports coffee growing communities. Our current focus is on education in Uganda.
Whole Bean - If you have your own grinder or a bean to cup machine this is for you.
Ground Cafetiere - Do you use the classic French Press / Cafetiere? This is pre ground ready for you.
Medium Ground - Perfect for Pour Over / Filter coffee. Chemex, V60 this is you.
Fine Ground - Best for Espresso Machines or Moka PotsAll coffee is high quality 100% Arabica specialty, 84+ SCA scored, and is freshly roasted to order.