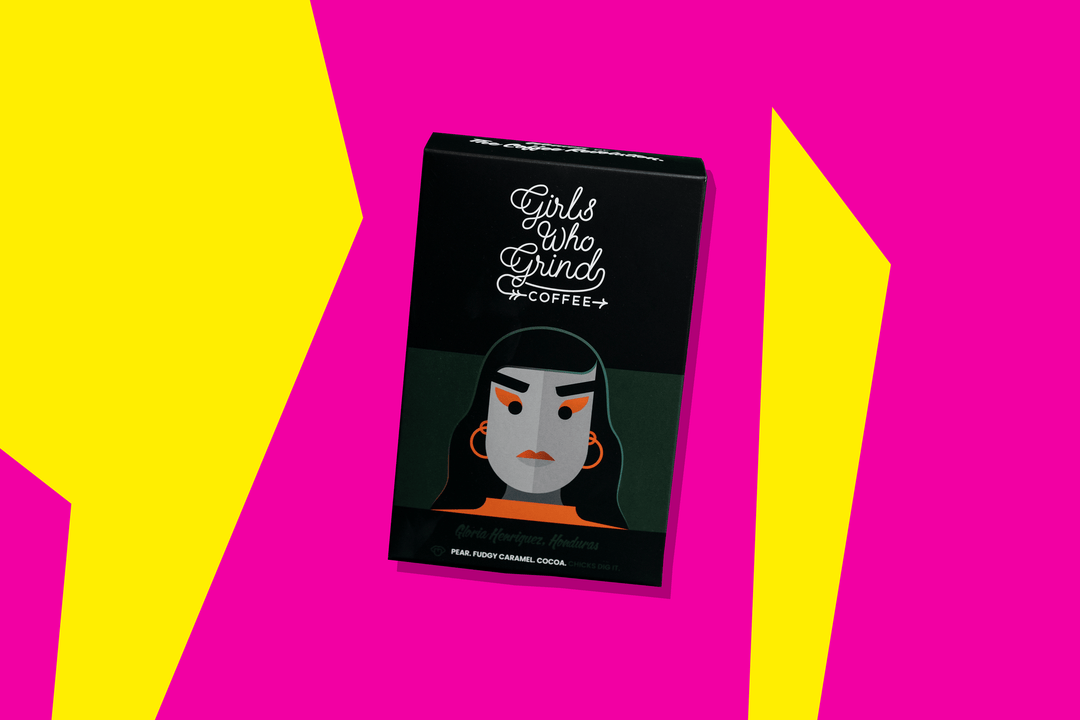 Girls Who Grind Coffee | Honduras
Girls Who Grind Coffee | Honduras
Sent directly to you from Girls who Grind for freshness.
Coffee name: Gloria Henriquez
Hints of: Chewy and Sweet. Poached Pear. Almond Fudge. Green Apple
Grown in: Honduras
Process: Washed
Varietal: Lempira and IHCAFE 90 
The roasters:
We are a womxn-led, anti-patriarchy specialty coffee roastery and rebellion movement. We source all our coffees exclusively from change-making womxn producers. We celebrate their work and share their stories, ensuring representation and visibility and, what the hell, roast their crazy delicious coffee.
To give back to the producers in exchange for everything they give, above and beyond the beans themselves, we run the Cheek to Cheek initiative, putting 10% of the sale price of all our retail coffees back into their pockets. They are part of our team, part of the rebellion.
Our lives were saved by coffee and rebellion, but the rebellion doesn't end with coffee, that's just the beginning. We are a community of rebels making positive changes in other areas that the patriarchy would love to see us shut out of. Nice try. We seek out fellow anarchists who do their own thing and dismantle misogyny along the way. Skaters, bikers, writers, riders, punks and producers, engineers and entrepreneurs, join the rebellion. Through collaborative events, sponsorship, ambassadorship and more; we are here to support you, to be seen and heard, and stay strong AF doing it.
We are two things. Pro-coffee and anti-patriarchy. And awesome. That's three things. Deal with it.
THE FARMERS:
Gloria Henriquez is a 4th generation coffee producer and owner of FTO certified farm Los Nances. She has a wealth of experience working on coffee farms having first started by watching her grandparents work on their farm as a child.
"The new generation of coffee growers laugh at me when I tell them about the way we worked in the old days, but I see my experience and wealth of knowledge, even if from another era, as an advantage" Gloria says.
In 2013, disaster struck when her farm was ruthlessly hit by rust. Gloria was close to despair. With no income and very little money for food, she went into debt. Little by little she pulled herself out of that deep hole and decided to diversify. Nowadays she holds over 100 free-range, chemical-free chickens, which she sells to eateries and her local community. A small but reliable source of income to supplement her coffee production.
Regular price
£1425
£14.25
Free UK delivery on all orders over £25
1% of sales invested in our Friendly Coffee Fund
Taste Tested & Approved By RISE
Free UK wide 48 hour tracked delivery service worth £3.48
International: Rates vary as calculated at checkout
Taxes and duties paid upfront in Europe for fast delivery
We can offer both subscription and non-subscription orders internationally
Packaging:
Our coffee is sent in our recyclable, plastic free sustainable RISE box!
Packaging: Our boxes are plastic free and made from recyclable materials. We only work with roasters who share the same ethos and ask you to get in touch if for any reason the recycling info isn't clear on a coffee bag. Our House coffee is packaged in 100% biodegradable plastic free packaging. Our Advent Calendar is 100% recycled cardboard with compostable pouches.
Our Values: We are transparent, honest and compassionate in how we respect people and the planet. Head to our Sustainability page to find out more about what these mean!
Friendly Coffee Fund: We give back 1% of all sales to our coffee fund which supports coffee growing communities. Our current focus is on education in Uganda.
Whole Bean - If you have your own grinder or a bean to cup machine this is for you.
Ground Cafetiere - Do you use the classic French Press / Cafetiere? This is pre ground ready for you.
Medium Ground - Perfect for Pour Over / Filter coffee. Chemex, V60 this is you.
Fine Ground - Best for Espresso Machines or Moka PotsAll coffee is high quality 100% Arabica specialty, 84+ SCA scored, and is freshly roasted to order.