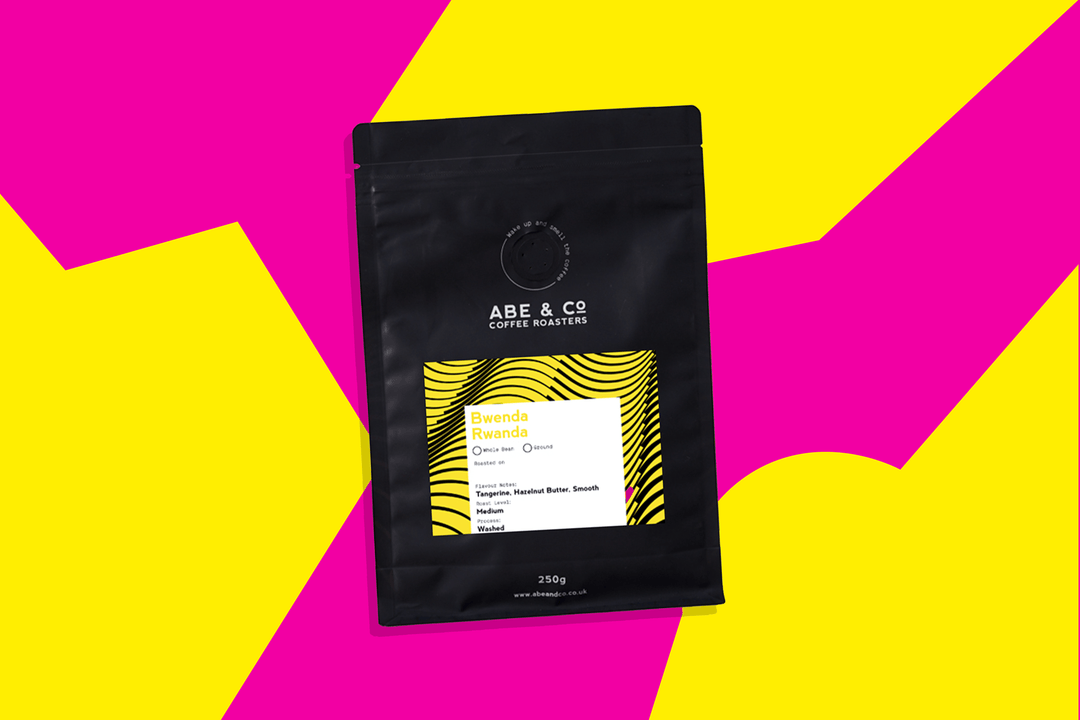 Abe and Co Coffee | Rwanda
Abe and Co Coffee | Rwanda
Freshly roasted coffee sent to you directly from Abe and Co coffee roasters. 
Coffee name: Bwenda
Notes of: Tangerine, Hazelnut Butter, Smooth
Grown in: Rwanda
Process: Washed
The coffee:
I love the smooth and rich flavour of this coffee. The slight citrus makes a knock out espresso or flat white
The farmers:

187km south-west of Kigali city, through the foothills and rice fields and into the Land of a Thousand Hills is the Bwenda washing station. Just north-west of Butare in the Kbumbwe sector, Bwenda occupies a small area of between 2-3 ha.
Bwenda is named after the cell of land it's on. It's manager, Eric, resides in nearby Huwe and has been the manager since RTC took ownership. Thanks to the training the farmers have received in financial management (which is just one aspect of RTC's training) Eric is content in knowing that they have been provided the opportunity to make savings, thus ensuring some longer term stability and financial independence.
The station employs 3 people full-time, including Eric, with the addition of providing seasonal work for around 60 casual workers during the harvest season. Women account for around 85% of the labour force at Bwenda, and we asked if this was because the work required less physical labour than other roles on the station Eric replied "No, they are just better at it than the men".
in 2022 1600 smallholder farmers local to Bwenda were contributing cherry to the station. Farm sizes ranged from just 100 trees to 7000 trees (around 3 hectares), and the farms lay between 0.5km to 4km away. The vast majority of farmers are between the ages of 30-55/60 with around 25% being either elderly or under 25. To enable farmers to contribute cherry in spite of access to the station from farms or issues of mobility, the site provides collection points and site collectors who gather cherry from across 20 locations. Collectors will inspect and weigh deliveries of cherry and pay the farmers straight away. Additionally, the station provides farmers with organic EM2 compost which consists of recycled cherry pulp with some animal manure.
All 1600 farmers using Bwenda have completed or are current participants in the Agribusiness Training Program.
Coffee available in: Whole bean, Ground Medium (AeroPress / V60 / Chemex), Fine (espresso / moka pot), Ground Coarse (French Press / cafetière)
Free UK delivery on all orders over £25
1% of sales invested in our Friendly Coffee Fund
Taste Tested & Approved By RISE
Free UK wide 48 hour tracked delivery service worth £3.48
International: Rates vary as calculated at checkout
Taxes and duties paid upfront in Europe for fast delivery
We can offer both subscription and non-subscription orders internationally
Packaging:
Our coffee is sent in our recyclable, plastic free sustainable RISE box!
Packaging: Our boxes are plastic free and made from recyclable materials. We only work with roasters who share the same ethos and ask you to get in touch if for any reason the recycling info isn't clear on a coffee bag. Our House coffee is packaged in 100% biodegradable plastic free packaging. Our Advent Calendar is 100% recycled cardboard with compostable pouches.
Our Values: We are transparent, honest and compassionate in how we respect people and the planet. Head to our Sustainability page to find out more about what these mean!
Friendly Coffee Fund: We give back 1% of all sales to our coffee fund which supports coffee growing communities. Our current focus is on education in Uganda.
Whole Bean - If you have your own grinder or a bean to cup machine this is for you.
Ground Cafetiere - Do you use the classic French Press / Cafetiere? This is pre ground ready for you.
Medium Ground - Perfect for Pour Over / Filter coffee. Chemex, V60 this is you.
Fine Ground - Best for Espresso Machines or Moka PotsAll coffee is high quality 100% Arabica specialty, 84+ SCA scored, and is freshly roasted to order.